3 generation race team dominates the field at Coulson's Hill Weeknight Race Series
A dream was realized on Wednesday night at Coulson's Hill, a tract of forest just north of Bradford, Ontario. Les Suter, right, has been dreaming about a 3 generation mountain bike team, almost since the birth of his own son, Travis (centre).
Les' father Jim (left), founder of Suter's Auto Service, obliged to come and help realize the dream-team, provided that all out-of-pocket expenses would be covered by the teams management (Les). Management jumped at the opportunity and covered all expenses but the $3 that it cost to drive the VW diesel down from "The Farm" to ride. Recovery drinks were also provided after the multi-lap race, as considerable physical effort was invested into an impressive showing for Team Suter's.
Jim was heard after the race speaking to another competitor as saying, "I think I'll be down next week for another go".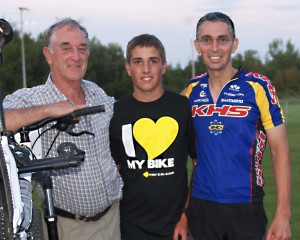 Thanks for the great ride guys, and here's to many more,
Les

2 Responses »