Suter's Auto Service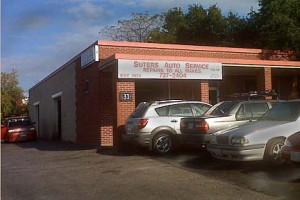 31 Industry Street, Aurora, Ontario, L4G 1X6               905-727-2404
Established in 1975, we are an automotive repair centre, specializing in repairs to Volvo automobiles. We are family owned and operated since inception, and as such, take a genuine approach to the services that we offer to our customers, albeit with a bit of humor thrown in once in a while... We employ 5 people, who have all become part of this family business, whether they like it or not! Of the 5 employees, 4 of them are technically skilled, each bringing their own set of skills to the table, on a daily basis. 1 of them, Amy, is also surprisingly technically skilled at times, but her skills are tendered in the office instead of the shop. She will likely answer the phone if you call, and liaison between you and the 4 guys in the shop, to meet your vehicles service requirements. She has been given resources necessary to ensure that the service provided meets your expectations. If the service that you receive from us is inadequate, we'd appreciate you telling us, and we will take on the responsibility of trying to meet your expectations, immediately.
Who are we?
We are Amy, Harry, Charlie, Rod, and Les. Please see our Bio page for more detailed information about who are away from work, but during the work week we are an effective team of skilled people that enjoy the challenges of working in the automotive repair industry. On any given day, you could have collective experience totalling 80 years working to figure out a problem with a car. However, the rewards for us extend beyond just the satisfaction of succesfully repairing peoples cars. The real rewards are those that come with building relationships with all of our patrons, and suppliers.
Get Aquainted
If you are considering enlisting us to do some work on your car, we encourage you to drop by for a social visit, meet the team, tell us your story...
To all of our existing customers, thanks for your continued interest and support.
Les