How to turn a crashed 245 in to a mint 1967 144s…
How do you turn this crashed 240 wagon in to a nice, red, rust-free 1967 144s?
Long-time customer John Switzer called me up a couple of weeks ago and asked me if I was interested in a car that he wanted out of his garage. He called it a "rust-free" 144s that needed some engine work and brake work. John didn't want much for it, and it had an interesting history that came with it, so I went to Beaverton to have a look. The old red 144 looked like a really good one, and I figured that it would be a great car to put in the collection of old Volvos that my Dad and I have. In John's driveway sat this mildly crashed, white 240 that John's wife Rene absolutely adored. The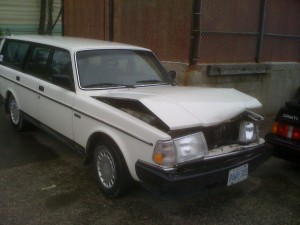 240 had been replaced by a late-model small Hyundai which they clearly weren't attached to. They wanted the 240 back on the road, and I wanted a red 1967 144s. Did i mention that I have a nice parts car that I could use to fix up their wagon?