So-long good friend…
Sadly, I have to report the loss of a very long-time friend and customer here at Suter's Auto, Gord Wyatt.
Gord had been a customer here, and a Volvo enthusiast for a very, very long time. Actually, Gord was enthusiastic about everything in his life that he approached. He was an active member of the cycling community, with involvement in mountain bike racing, recreational riding, and mountain bike trail advocacy/maintenance. Gord was riding his bike on Sunday at Durham Forest near Uxbridge, and died suddenly due to suspected heart failure.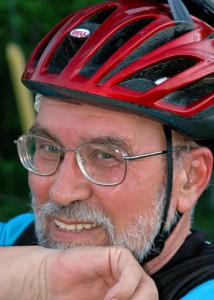 As Gord was an avid photographer/videographer, and very tech-savy, he gifted me with many hours of his time developing the website that you are now viewing. Gord figured that we had something good going on here, and he wanted to share it with people. "Volvo Bits" was born.  It wasn't about making more money, or growing the business. He just wanted to share. Gord was just that kind of guy.
Today I picked up Gord's V-70 from the place he had left it to go and ride. His muddied bike was in the back with his helmet, and shoes, and the wool hat with the big pom-pom on top was wedged between the front seats. It was a difficult, surreal experience for me. As I turned the key and the engine roared, I smiled and cried a tear. He was supposed to bring me the car this week to fix up the exhaust leak.  Just wanted to let you know Gord, the car is nice and quiet now, and  this one's on the house...
Gordo, we'll miss you dearly,
Les