On-Line Volvo Maintenance Schedule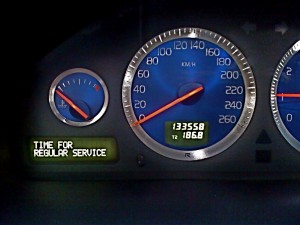 I frequently get asked "What service will be performed on my car?" when the "Time For Regular Service" message pops up on the dash. Often, I will then resort to digging through my Volvo specific service literature here in the office in order to outline what we will be doing with your car. Or even worse, I'm left digging through a couple of years worth of drive-thru remnants in the customer's car glovebox looking for the maintenance schedule that came with the car!
At the bottom of this page is a link to the Volvo Canada website that clearly outlines all of the service that is necessary to be performed to your vehicle in order to ensure that Volvo will honor your warranty, if it is still covered. Keep in mind that this is a guideline of basic service, and your car may require other service unrelated to the guide.
There are some limitations to this site. The schedule only goes back to 2003 models, and schedules for higher mileage cars are often not available. Also worthy of mention, this guide is intended for the Canadian marketplace specifically. USA service schedules are usually much less intensive.
Maintenance Schedule, Click Here!