Why we love our Volvos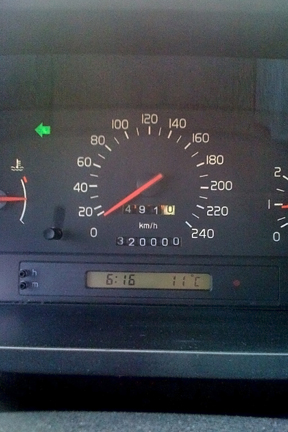 So...
I'm flying along the highway last week in a 15-year old Volvo 850, tunes on, sunroof open, and at 120km/hr, I'm struck by how well this machine drives.  Ten minutes later, as the odometer ticks over 320,000km I ignore our new "hands-free" phone law, and I snap a picture of the odometer (at a stop-light!). One would assume that this Volvo would be near the end of it's useful life.  Not the case. I'm on my way to deliver it to it's new owner, as they are taking delivery of it today.  These cars are incredibly predictable, and as such, we can make them absolutely reliable regardless of the mileage.
The new owner will be driving the car on a long road-trip in one week, and I'm totally confident that the car will perform as intended. I have offered them an unconditional money back guarantee if they don't like the car for any reason! ( It was only $2500.00 I should add...)Unconventional perhaps, but absolutely a reflection of my confidence in these vehicles!
Gotta love these cars!

1 Responses »